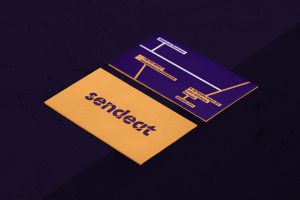 "SendEAT is an online food delivery company operating in the Portuguese market. They approached VOLTA in search of a new name, visual identity and website design that would better define its business and its service. The company prides itself on a great restaurant network, impeccable service and the possibility of tracking your delivery route in real time.
"VOLTA's approach focused on what we thought was the real advantage point of the company, compared to other food delivery services: seeing your order travelling through an online map, in real time, and having that comforting feeling of knowing your meal is about to arrive.
"After throwing on the table several options, we decided to go with SendEAT, as it expresses a direct relation between eating and an order delivery service. When it comes to its visual identity, instead of focusing on the clichéd fork, plate or spoon shaped logo, we took inspiration on the city maps the orders travel through. We decided to stencil the word's lowercase characters, as if they were cut by the streets the orders travel through to reach their destiny. Bold and punchy colours were used, in order to give feelings of variety and dynamism and to cater to different tastes and options, just like the company's service does.
"We also decided to create a tagline to best express SendEAT's brand promise, using a common phrase, and adapting it to the company's main service reality: Eat's on your way.
"The result is a simple yet vibrant brand identity, with a contemporary look & feel and a clear message: we want to get the best food to the best customers – our customers."
Designed by VOLTA | Brand Shaping Studio