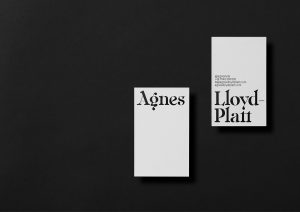 "Agnes Lloyd-Platt is a fashion and beauty photographer based in London. Her work has been featured on the cover of Time and Rolling Stone magazine, and is characterised by positivity, colour, character and a graphic sensibility. She describes her work as progressively colourful, contemporary and free. Embracing playfulness she believes her subjects have majestic qualities, and that fashion photography should be uplifting and pleasing to look at.
"To convey the quirk and personality of her work we created a bespoke wordmark that is bold and confident, fashion but a little fucked-up, a touch psychedelic, with a bit of nostalgic magic given she frequently looks to the past for inspiration. The logotype lends itself to being used large, and as such can be used as a textural element to support her photography. The flexible system can be layered over imagery or used as graphic wallpaper behind images.
"To help Agnes feel personable we created versions of the logo which allowed us to break her first name away from her last name to feel more inclusive and approachable; on a first name basis so-to-speak.
"Online, to harness her overarching ethos of colour and positivity, we introduced an unconventional way to navigate her portfolio online; through the sorting of colour."
Designed by Seachange Studio