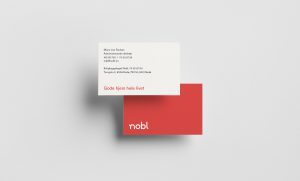 "Nobl was established under the name Bodø Boligbyggelag (BBL) in 1946. As a housing cooperative, its mission was to build affordable apartments and small houses in Bodø, a necessity after the heavy bombing of the town during WW2. Over the years BBL has grown, today they have more than 16.000 members all over Nordland, and provide financial, technical and juridical expertise to their own housing cooperatives as well as stand-alone entities. They are also building and developing real estate in all of Nordland County.
"Due to the growth and geographical expansion over the years, BBL saw the need to iterate their brand strategy and change their name, after experiencing that the connection to Bodø in the name BBL, could be seen as distancing instead of including in other parts of the country.
"In the winter of 2016 we facilitated a series of workshops together with BBL. Starting with the brand strategy we re-worked and adapted this to todays situation, as well as developing a brand story to make sure that BBLs history was at the core of the new identity.
"We then proceeded to develop a new name. After several workshops, prototyping and research, we landed on the name Nobl. As well as being an abbreviation of Nordland Boligbyggelag, Nobl is pronounced as "Nobel" in Norwegian, which translates to "Noble" in English."