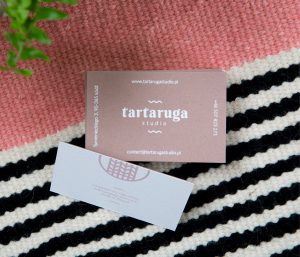 "My task was to create the visual identity for Tartaruga. Tartaruga is a weaving studio and it s born of passion shared by two friends. lovers of craft and beautiful design. They create contemporary kilims and wall hangings.
"They believe in slow design and use traditional tools and techniques. Materials, which they use were produced in sustainable way or were recycled. All the yarns are dyed with non-toxic dyes. Their fabrics are made with respect for environment and our employees.
"The focus of this identity was to create an elegant, ecologial brand that will not overshadow the beauty of the fabrics produced by the girls.
Tartaruga Studio is based in Kodz and it s not a coincidence. The city was strongly connected with textile industry from the very beginning. Tartaruga means "a turtle". The turtle is slow but long-lived and unique. Exactly like theirs fabrics."
Designed by Marta Nawrocka